Authentic taste & lines
The global coffee market is rapidly evolving – customers are driven by quality as well as diversity and the choice of products has become an extension of the individual. Branding is no longer determined by products but, rather, by personal choice.
Cameo embraces this new dawn by providing an aesthetic line associated with tradition, a symbol of authenticity as well as quality.
e'FOAM SYSTEM

The Eversys' improved Foam system provides a 2-step barista 
solution. This generation of e'Foam allows you to texture the milk by product type. This is done through the Micro AirDosing (MAD) system controlled electronically,
using the screen's steam wheel selector.

BARISTA MILK STYLE

Today's multiple milk recipes require variable milk textures. With Eversys' new Electronic Milk Texturing (EMT) system it is possible to create individual milk foams and textures.

NEW HOT WATER OPTION

The new hot water option offers variable temperatures. The new Variable Tea Temperature (VTT) system allows you to adjust the temperature for any kind of tea, to provide a perfect infusion, using the screen's hot water wheel selector.

e'CONNECT TECHNOLOGY

This leading-edge telemetry system allows you to track and process live data from anywhere in the world, to control consistency and performance, ensuring transparency, optimise service maintenance and generate statistics. Eversys can provide dashboards to enable you to converge data into simple reporting.

Barista skills transferred

into a machine

Being passionate about in-cup quality, Eversys has driven the boundaries of automated product delivery to the extreme. Short of being able to place a physical 'Barista' inside the machines, Eversys has dissected all of the key movements and functions associated to the making of leading edge products and assimilated them into an intelligent electronic interface.

The journey of the coffee bean mirrors that of the traditional route-electronic grinder adjustment, precision driven brewing, extraction optimization as well as thermo­dynamic integrity produce the quality, consistency and productivity that lead to sustainable profits.

1

Grinding

Eversys- designed ceramic blades driven by a powerful yet quiet motor, whose heat is cleverly channelled away from the coffee beans, to maintain their quality, via a set of fans. Electronic control maintains consistency (self adjusting) of product throughout the day, ensuring optimal extraction at all times.

2

Tamping

A 24 -gram brewing chamber to facilitate single cycle large beverages is controlled by electronic tamping to guarantee consistent quality.

3

Temperature control

Dedicated coffee boilers, separate from the water/steam boiler, provide productivity and temperature control, essential parts of in-cup quality.

4

Brewing

Reverse gravity extraction vertical infusion optimises powder efficiency as the espresso is produced.

5

Milk frothing

Milk is frothed with steam in the one step system, promoting flavour as well as texture, mirroring the Barista experience.

6

Dispensing

All products are pre-programmed to be dispensed in a consistent and efficient manner, placing seamless productivity and quality at the forefront of the customer experience.
Additional Clour Options:
Dimensions in mm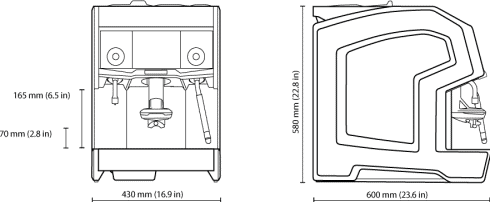 Specifications
| | |
| --- | --- |
| Dimensions (W/H/D) | 430 x 580 x 600 mm / (16.93 x 22.8 x 23.60 in) |
| Weight | 63 kg / (138.9 lb) |
| Brew chamber capacity | 24 g |
| Grinders | Ceramic burrs |
| User Interface | 400 mm in diagonal (15.7 in) |
| Bean hopper | 2 x 1.2 kg (2.65 lb) or 1 x 2 kg (4.4 lb) in option |
| Coffee spout height | 70 to 165 mm (2.8 to 6.5 in) |
| Coffee boiler size | 0.8 L / (0.21 gal US) |
| Steam boiler size | 1.6 L / (0.48 gal US) |
| Power | 208V 30A |